Renting a tent for your outdoor party encourages people to stay outside and also provides shade for your guests. But have you given any thought as to the size of the tent you need? You don't want a tent that's too small or people will end up in the direct sun but you also don't want a tent that's too big or you'll feel like you wasted money.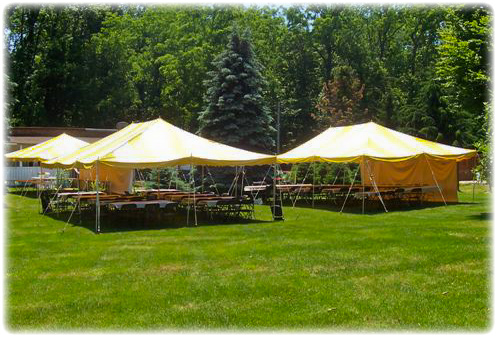 Here are some questions to ask yourself before you reserve a tent:
How many people will be attending?
Will you serve food buffet style, sit down, or heavy hors d'oeuvres?
How much space do you have in your outdoor area?
Do you need a food table, drink station, dance floor or DJ set up under the tent?
Here are some answers to Frequently Asked Questions we receive about how to choose a party tent:
Our 20×20 tents seat approximately 36-48 people and our 20×30 tents seat approximately 60-80 people.

Serving a sit down dinner or heavy hors d'oeuvres doesn't require a food table under the tent but you'll want a drink table set up if you want guests to serve themselves. Even if you hire a bartender, do you want the bar under the tent?

We need at least 3 feet along the perimeter of the tent to safely secure the stakes in the ground and you'll want even more grassy space beyond that so guests don't trip on the stakes.

We can also set up a tent on blacktop but you will have holes remaining when we take the tent down. With the heat of July and August, these holes naturally fill themselves but if you want to keep your blacktop in pristine condition, we highly recommend setting up your tent in a grassy area.
Of course, if you have any further questions about what size tent you need, just call Terry and she'll get you set up!
It's prime outdoor party season! NOW is the time to think about your party rental needs for birthdays, family reunions, July 4th and Labor Day.
Call Terry TODAY at (845) 227-2691 for all your party tent rentals in Dutchess County, NY!
Proudly serving the Hudson Valley