Summer is finally here along with backyard barbeques, family reunions, birthday parties and baby showers. Setting up your party outdoors is one way to maximize your space (and to keep your house clean!) but there are some food safety tips you should follow so everyone remembers you for throwing the fun party, not for making people sick.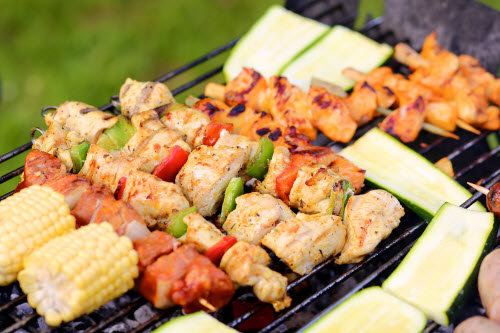 In the summer months, take these steps to keep your food fresh and safe for your guests:
Marinade food in the refrigerator. Keep these foods cold until ready to cook and never re-use marinade as a sauce.
Scrub your grill with hot, soapy water prior to cooking.
Do not leave cooked food outside for more than two hours. If the temperature is above 90 degrees, then leave food out for only 1 hour.
Keep hot foods hot and cold foods cold. Wrap hot foods in foil and use a chafing pan with sterno to keep warm. Use ice baths to keep cold platters or salads cold, especially if mayonnaise is an ingredient.
Use a meat thermometer to ensure that hamburgers are cooked to 160°F, chicken to 165°F and hot dogs reheated to 160°F.
And always, always wash your hands frequently and keep raw meats away from cooked food, no matter what time of year you're having a party.
It's prime outdoor party season! NOW is the time to think about your party rental needs for birthdays, family reunions, showers and Labor Day.
Call Terry TODAY at (845) 227-2691 for all your party tent rentals in Dutchess County, NY!
Proudly serving the Hudson Valley