Outdoor parties are a wonderful way to celebrate milestones or to just bring family and friends together to enjoy their company. But planning a menu for an outdoor party can be stressful, especially for those who don't like to cook or who get intimidated hosting a large group of people.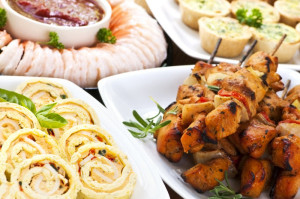 Here are some outdoor party menu ideas that will simplify your planning:
Hire a caterer. I highly recommend this for a wedding or for a group larger than 50 people. Caterers will create a personalized menu, prepare a taste of each item for you to sample, and will bring the appropriate number of helpers to your venue.

Search for your favorite celebrity chef online. All these chefs have websites now where you can find their specialty recipes or even full menus. Many of these sites will also have a section for Reviews, where other foodies will make recommendations or slight changes to the recipe and post the result. Check out these results we found for Rachael Ray and Food Network.

Organize a potluck gathering. Potlucks are a fun way to spread out the cooking among many people but it also allows people to showcase their favorite recipes. You can ask guests to bring their favorite appetizers, side dishes or desserts while you prepare the main course, or you can divide up all the courses among the guests.

Save a messy kitchen by grilling outdoors. No need to dirty pots or pans when you're grilling! A wide variety of meats and vegetables can be grilled so you can please every palate.

Search Pinterest for ideas. Yes, we love Pinterest! Here are the results when we searched for 'outdoor party menus'.
What are your favorite resources for planning a party menu? Let us know in the comments below!
Lowest price GUARANTEED for party tents in Dutchess County!
Summer's not over yet!! If you're planning an outdoor party,

call us TODAY at (845) 227-2691

to reserve your party tent, tables and chairs.
Proudly supplying party tents in Dutchess County and the Hudson Valley, NY since 1997