Consider the whole outdoors as your blank canvas when given the task of planning and decorating for an outdoor party. No matter what decorating style you choose, think of ways to decorate the outdoor space and your party tent to make it inviting while still showcasing the personality of the guest of honor.
Are you cringing at this idea because you don't think you're creative? Never fear…Pinterest has loads of decorating ideas for your next outdoor party! From simple and homemade to elaborate and elegant, you will find plenty of decorating ideas that will fit any budget. Simply type in the type of party or decorations you're looking for in the search box and photos will appear. Viola! Instant party planner!
Here are some of our favorite party tent decorating ideas!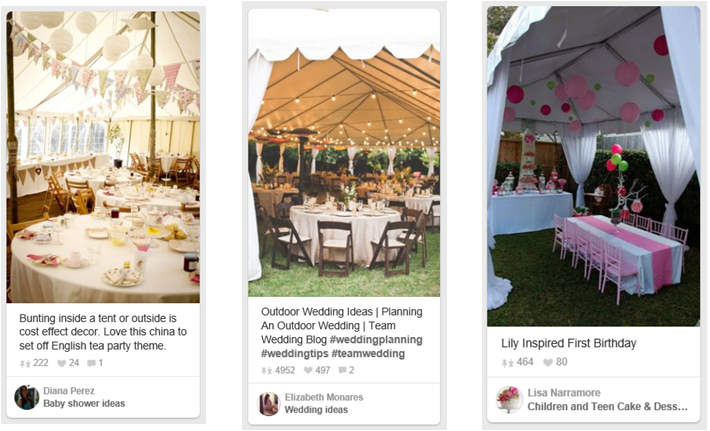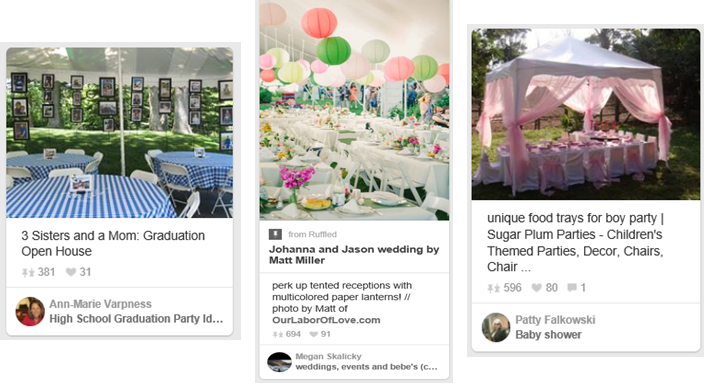 Popular Party Tent Decorating Ideas
White fairy lights, string lights, twinkle lights, or Christmas tree lights are popular when parties are expected to last into the evening hours. Play it safe and avoid stapling the lights to the tent fabric itself or you'll risk incurring extra charges for damages.
Photo garlands, collages, or banners are another popular way to showcase the guest of honor. Choose photos from their childhood, college days, travels around the world, or other special events. Use scrapbooking patterned papers for a unique design or create a collage with simple poster board.
Create luminaries with bags and tea light candles to line a walkway to the evening party. Choose colored bags that coordinate with the bridal colors or use LED candles for an added safety feature.
Balloons are the perfect decoration for kiddie parties or elegant parties alike. Create a balloon arch for a Sweet 16 party, hang balloons on fishing line to outline the border of your party tent, or tie bunches of balloons together for another splash of color under the party tent.
As always, safety is a top priority so if you want to hang decorations or lighting under our tents, please let us know the size and weight so we can give you approval. Likewise, keep sterno candles and centerpiece candles away from tent sidewalls to avoid accidents.
Summer is HERE and the outdoor party season is far from over. Book your party tent for AUGUST 2017 and save $25. Lowest prices guaranteed!
Call Terry TODAY at (845) 227-2691 to reserve your party tents, tables and chairs!
Serving Dutchess County, NY and the Hudson Valley since 1997.