Choosing party themes for your big events is the easiest way to plan your celebration. Sticking to a party theme narrows down your choices of food and decor, which for many people makes planning easier. Remember being in school when the teacher would assign an essay about anything you wanted to write about? I always found those the hardest assignments because the pool of ideas was so HUGE, truly infinite. Having a specific topic for my essay always eased my mind because I knew what information I had to include. Party planning is much the same.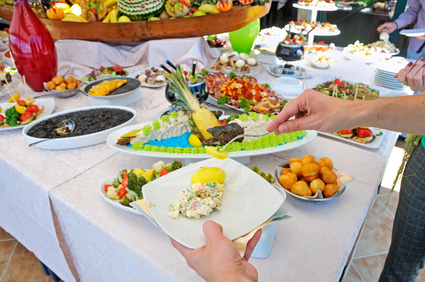 Your party theme can be as simple or as complex as you want. There is no right or wrong way to choose a theme and with some creativity and do it yourself ideas, you can easily stick to a budget no matter which theme you choose.
This is the time to let your imagination run wild! But if you need a little more help, here are some party themes that might be suitable for your next party.
Hawaiian Luau – whether you're from the great state of Hawaii or it's on your bucket list of dream vacations, throwing a Hawaiian-themed party can be fun, especially if you add in an Ugliest Hawaiian Shirt contest! Grass skirts, leis, and many other Hawaiian-themed decorations are available to order online.
Choose Your Favorite Cuisine – Tailor a dinner party around your favorite cuisine. Explore Spanish dishes by setting up a tapas bar; serve up unique-flavored margaritas with some traditional Mexican cuisine for Cinco de Mayo; or wisk your guests away to the Greek islands where they'll reach for the ouzo while yelling "Opa!"
Favorite TV Show Theme – dig out the poodle skirts for a Happy Days theme or find some skinny ties for the guys to dress like their favorite Mad Men. And who would pass up the opportunity to dress in big plaid for a Brady Bunch party. You have a lot of leeway in the food menu or turn it into a potluck and have your guests bring their favorite casseroles from their childhoods.
Feature Your Favorite Food – are your a chocoholic or someone who can't get enough breakfast food? Yes, you can plan a party around chocolate and breakfast! Consider an after-dinner party with chocolate-covered desserts and fancy liqueurs. Or serve breakfast for dinner with chocolate chip pancakes or an omelette station.
As you can see, your imagination is your only obstacle when it comes to party planning. Choose a theme you love, serve food that makes you happy, and invite friends whose company you truly enjoy and you will have the perfect party.
The ground is thawed despite cool nighttime temperatures and it's officially Spring in Dutchess County! Have you reserved your party tent, tables and chairs yet?

Many weekends are already filling up due to graduations, so call us today!

YES – you CAN book us NOW for your party in August!


Rent party tents in Dutchess County for your outdoor celebrations. Lowest prices GUARANTEED! Call us TODAY at (845) 227-2691 to rent your party tents, tables and chairs. Proudly supplying party tents in Dutchess County and the Hudson Valley, NY since 1997.