Planning a party and playing the hostess role is stressful but when you are aware that one of your guests has food allergies, then extra care is required to eliminate that allergen from your menu.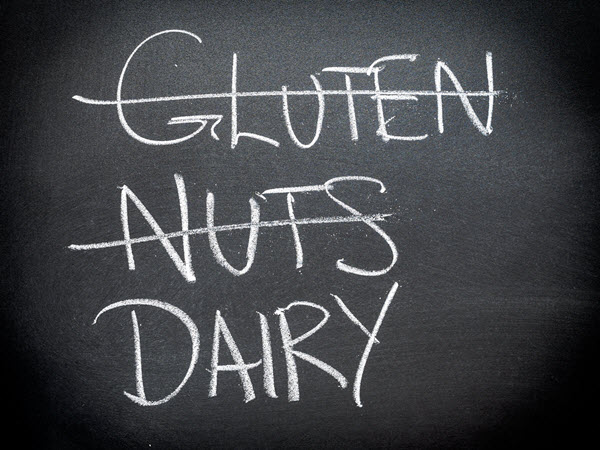 Thankfully, the internet is chock full of food allergy information but this is an important question to get in the habit of asking your guests, whether they are 5-years-old or adults. Many parents whose children have food allergies will alert the hostess of what foods are safe and they usually have no problem supplying their own food, snacks or treats that are safe for their children. Adults with food allergies are in a lifelong habit of asking how foods are prepared but you still need to read ingredient labels carefully and be cautious not to cross contaminate while cooking.
Common Food Allergies
WebMD.com lists these 8 foods as the most common food allergies:
Milk (mostly in children)
Eggs
Peanuts
Tree nuts, like walnuts, almonds, pine nuts, brazil nuts, and pecans
Soy
Wheat and other grains with gluten, including barley, rye, and oats
Fish (mostly in adults)
Shellfish (mostly in adults)
Symptoms of a Food Allergy Reaction
Mild symptoms can be hard to tie to specific foods. You could get:

Red, swollen, dry, or itchy skin rash (hives or eczema)
Runny or stuffy nose, sneezing, or a slight, dry cough
Itchy, watery, red eyes
Itchy mouth or inside your ear
Funny taste in your mouth
Upset stomach, cramps, throwing up, or diarrhea

Most often, peanuts, nuts, fish, and shellfish cause severe reactions, although any food can. Symptoms include:

Trouble breathing or swallowing
Swollen lips, tongue, or throat
Feeling weak, confused, or light-headed, or passing out
Chest pain or a weak, uneven heartbeat
How to Feed Your Guests with Food Allergies
Don't be afraid to ask specific questions about your guest's allergy. They will happily share details if it means not having a bad reaction.
Share your menu and ask if it is safe for them.
Ask your guest to bring a favorite allergy-safe dish to share with the group.
Read your ingredient labels very carefully. Many companies will print if the product contains allergens.
Prepare a clean, organic menu. Then you don't have to worry as much about processed ingredients.
Hire a caterer and inform them of the allergies.
There's no need to avoid inviting guests with food allergies to your parties. With a bit of extra careful planning, you can still have a rockin' party.
We are your #1 source for backyard tent rentals in Dutchess County, NY!
Lowest prices GUARANTEED!
Call us TODAY at (845) 227-2691
to rent your party tents, tables and chairs.
Proudly supplying party tents in Dutchess County and the Hudson Valley, NY since 1997.