Spring is in the air in Dutchess County, which means your First Communion, Mother's Day or Graduation parties are right around the corner! Are you ready or are you in party planning agony?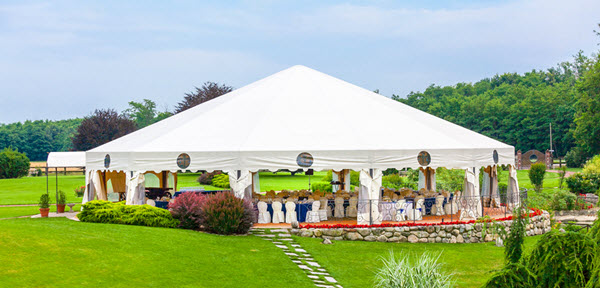 Party planning isn't everyone's forte so here's a quick list to help organize your party planning efforts so you can also enjoy your party as much as your guests do. Just remember, there's no right or wrong answer to these checklist questions. Work within your budget and enjoy!
Quick Party Planning Checklist
Venue: Do you want an indoor or outdoor setting? Rent a hall or rent a party tent in your backyard so guests have some shelter.
Guest List: The number of party guests can impact your venue choice. Indoor parties will limit the number of guests while an outdoor party can usually accommodate more people.
Pick a date: Be prepared with at least 2 dates, whether you're renting a hall or renting a party tent. Certain weekends are in more demand than others so keeping an open mind will eliminate unnecessary stress.
Food: Catered or BBQ? Full meal or finger foods? Choosing your food options will depend on the type of atmosphere you want, the size of the guest list, and the venue of the party (and let's not forget your budget!)
Invitations: Order printed invites or send Facebook evites? Again, this depends on how formal you want your party. Be sure to allow enough time for printing, mailing, and responses. Usually 4-6 weeks is a good timeframe.
Rental furniture: Rented halls generally supply all the furniture you need but for outdoor parties you will need to rent tables and chairs. Make these arrangements when you reserve the party tent and don't forget to rent tablecloths!
Decorations: Every party space wants to look festive! Balloons, flowers, DIY crafts, photos…the decorating ideas are endless, especially if you're a fan of Pinterest.
Entertainment: DJ or iPod? Clowns, magicians, swimming, board games or outdoor games? Look at the type of party you're hosting, the age of the guests, and your budget.
Party planning doesn't have to be stressful, especially if you ask for help from your older teen children or other friends/family members.
Rent a Party Tent for Your Outdoor Spring Party!
Lowest prices GUARANTEED!
Call us TODAY at (845) 227-2691
to rent your party tents, tables and chairs.
Many weekends are filling up quickly so call us today!
Proudly supplying party tents in Dutchess County and the Hudson Valley, NY since 1997.