Just because your closest friends or most favorite celebrity broke the bank paying for a Sweet 16 party doesn't mean you can't plan a Sweet 16 party on a budget.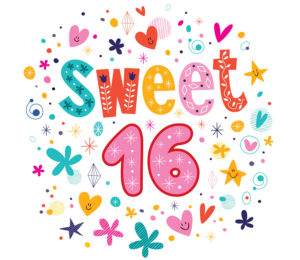 Over the years, Sweet 16 parties have gotten the reputation of costing the same amount as small weddings with friends trying to outspend friends, celebrities boasting about the amount of money spent, and reality tv shows emulating the glitz and glam of overabundance. If you're an average working parent who doesn't want to mortgage their home to fund a party, here's some of our best budget-friendly advice for planning a Sweet 16 party.
Plan a Sweet 16 Party on a Budget
Set a realistic budget. How much can you realistically afford to spend on a party in total? How much per month can you safely spend without missing some of your other bill deadlines? Are you willing and able to earmark your year-end bonus as party funds?
Set priorities. Is it more important to have the party in a ballroom or to get a super fancy (aka expensive) dress? Do you want to hire a caterer or a DJ? Depending on your budget, all these "party essentials" may not be affordable so prioritize your MUST HAVES and look for less expensive options for the rest of the list.
Shop locally and/or ask family. Instead of a fancy hotel ballroom, does your town have a community center for rent? Or maybe your grandparents have a spectacular outdoor space you can borrow for an outdoor party. With a little imagination and Pinterest decorating ideas, even the most plain community center can be transformed into a Sweet 16 dreamland.
Reign in the guest list. Does she really know all 300 people on your guest list or is she looking for bodies to fill in the huge ballroom you reserved? If you cut down your guest list, you might be able to fit into a smaller venue which costs less money.
Be aware of ordering things online. My daughter found the 'perfect' Sweet 16 dress online and just had to have it…even though it was being shipped from China. She wanted an original design and there was no convincing her to shop locally. The dress arrived in time but was a size too small, small enough that the zipper wasn't closing and there wasn't enough material to let the dress out. So out we rushed to a bridal shop to find the exact dress again but for 3x the cost. That said, she also ordered 2 prom gowns online and they fit perfectly (except for needing to be hemmed) but just be careful who and where you order from.
Let nature dictate your table decorations. One friend decorated her Sweet 16 tables with tree branches, pine branches and pine cones for her daughter's Chronicles of Narnia themed Sweet 16 party in January. She simply gathered up the branches from her yard and from friends and arranged them beautifully in craft store hurricane glasses. Simple yet elegant and it fit with the party's wintery theme.
In the end, you and your Sweet 16 princess will plan the perfect party that will celebrate HER. Just remember to be your own person, don't feel the need to compete with other parties, and have a good time!!
Rent a Tent for Your Outdoor Sweet 16 Party!
Lowest prices GUARANTEED!
Call us TODAY at (845) 227-2691
to rent your party tents, tables and chairs.
Many weekends are filling up quickly so call us today!
Proudly supplying party tents in Dutchess County and the Hudson Valley, NY since 1997.