We've been talking a lot about high school and college graduation parties because this is the season for those milestone events but before we can get to the graduations, we have to get through toddlerhood! So this post is dedicated to our favorite little people…the toddlers.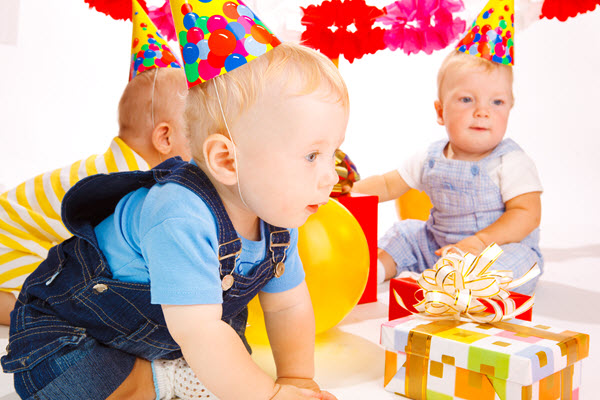 They run us ragged with their high octane energy, they give up naps before we're ready, and every toy comes with 1200 pieces that get strewn across the house every single day. If your toddler has a summer birthday or you just want to have the super awesome-est play date, plan a backyard party for your toddler. Outside party = NO indoor mess!
Here are some backyard party ideas for toddlers that will work with any budget and make every toddler happy.
Water Fun
Fill up a small wading pool and let the splashing begin! Make sure to tell guests swimwear is required and to bring a towel. If you have more kids than will fit in a pool, fill up some water balloons prior to guests arriving. If your toddlers are closer to school age, let the kids fill up their own water balloons. For the more mellow toddlers (do they really exist??) set up a kiddie sprinkler for them to run through.
Dance Party
Toddlers already love to move so add some favorite tunes and make a game out of dancing. You can try imitating the Hot Dog Dance from the Mickey Mouse Clubhouse or play Freeze Dance, where the kids need to stop moving when the music stops. Freezing might be tough for 2-year-olds to understand but 3- or 4-year-olds should understand that concept pretty well. Adding some music to the game Red Light, Green Light is the same idea.
Messy Crafts
Toddlers adore getting messy with finger paints but moms usually cringe at the idea of doing it in the house, so take this opportunity to set up tables outside and let them finger paint! Let them rinse off the mess in the toddler pool and take guesses as to what color the water will turn. Finger paints are non-toxic so they won't hurt the grass.
Other Outdoor Fun
Who doesn't love bubbles? Buy each child their own small bubble container or get an oversized wand and try to make a bubble as big as your toddler's head! The kids will have a blast blowing their own or chasing the bubbles across the yard.
Play follow the leader.
Go on a treasure/scavenger hunt.
Play tag.
Setup giant blankets under a party tent to have a super-sized outdoor picnic.
Rent a Tent for Your Toddler's Backyard Bash!
Lowest prices GUARANTEED!
Call us TODAY at (845) 227-2691
to rent your party tents, tables and chairs.
Many weekends are already filling up so call us today!
Proudly supplying party tents in Dutchess County and the Hudson Valley, NY since 1997.