For most parents, it seems like yesterday that your child was stepping onto the kindergarten school bus for the first time. Now, that same child is dressing up in a cap and gown, receiving their diploma and walking on a wide-open path to their future. During those precious moments you learned just how much of your world one person can become.
Your child has worked hard to earn his or her diploma and now it's your turn to reward that effort with a spectacular graduation party. Here are some things you can do to make it memorable for all involved.
Take Lots of Pictures
You might even consider creating a web page that allows party guests to share their photos and memories online. It's a great tribute that you can share long after graduation is over. Plus, before you know it, you'll blink your eyes again and your child will be walking down another aisle. These memories are precious. Photographs allow you to keep them close long after the moment fades.
Don't forget to use this opportunity to display a variety of embarrassing childhood photographs of your graduate throughout the event to let others share in your memories, so you can reminisce together. Plus, it's one of the last chances you'll have to get a rise out of your child by sharing these snapshots of history with an appreciative crowd.
Food and Drinks for a Crowd
Some graduation parties follow themes, and some are far more relaxed. It doesn't matter if you're feeding your guests pizza, firing up the grill, or have decided to cater the event so you can focus on living in the moment rather than making sure you have plenty of ice, snacks, drinks, and cups on hand. The idea is to have enough food to meet the reasonable needs of your guests and then sit back and celebrate your child's milestone.
A Party Tent
The fact is that no matter how carefully you plan for these events, the weather has a mind of its own. Whether you're doing an afternoon graduation party or an evening event, a party tent not only helps to provide relief from a relentless summer sun, it also helps to provide shelter from unexpected downpours that may arise as well.
A Guest Book
This serves double duty. Not only does it allow guests to share written well wishes with your graduate. It also allows them to include their addresses and other information, so your child knows where to send "Thank You" cards for all the great graduation gifts he or she is sure to receive. It's a wise investment to make for the event and it will be a memory your child will one day look back on and treasure.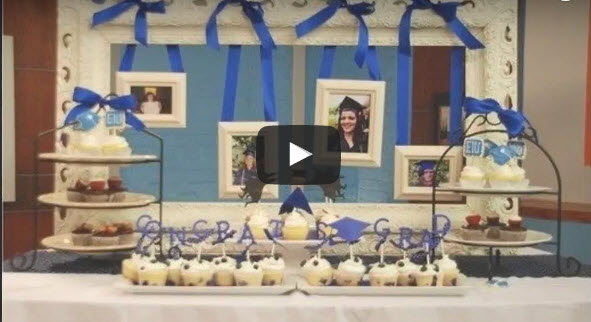 Your child's graduation is an important milestone and a rite of passage. Celebrate the event with a graduation party that rewards the effort your child made to accomplish his or her graduation goals and that allows friends and family to share in the moment as well. With so many schools limiting graduation attendees, this is the one way to make sure friends and family, even extended and honorary family, are able to share in the moment.
Call Terry TODAY to rent your backyard party tent, tables for the snacks, and chairs for your guests.
(914) 490-5394
LOWEST PRICES GUARANTEED!